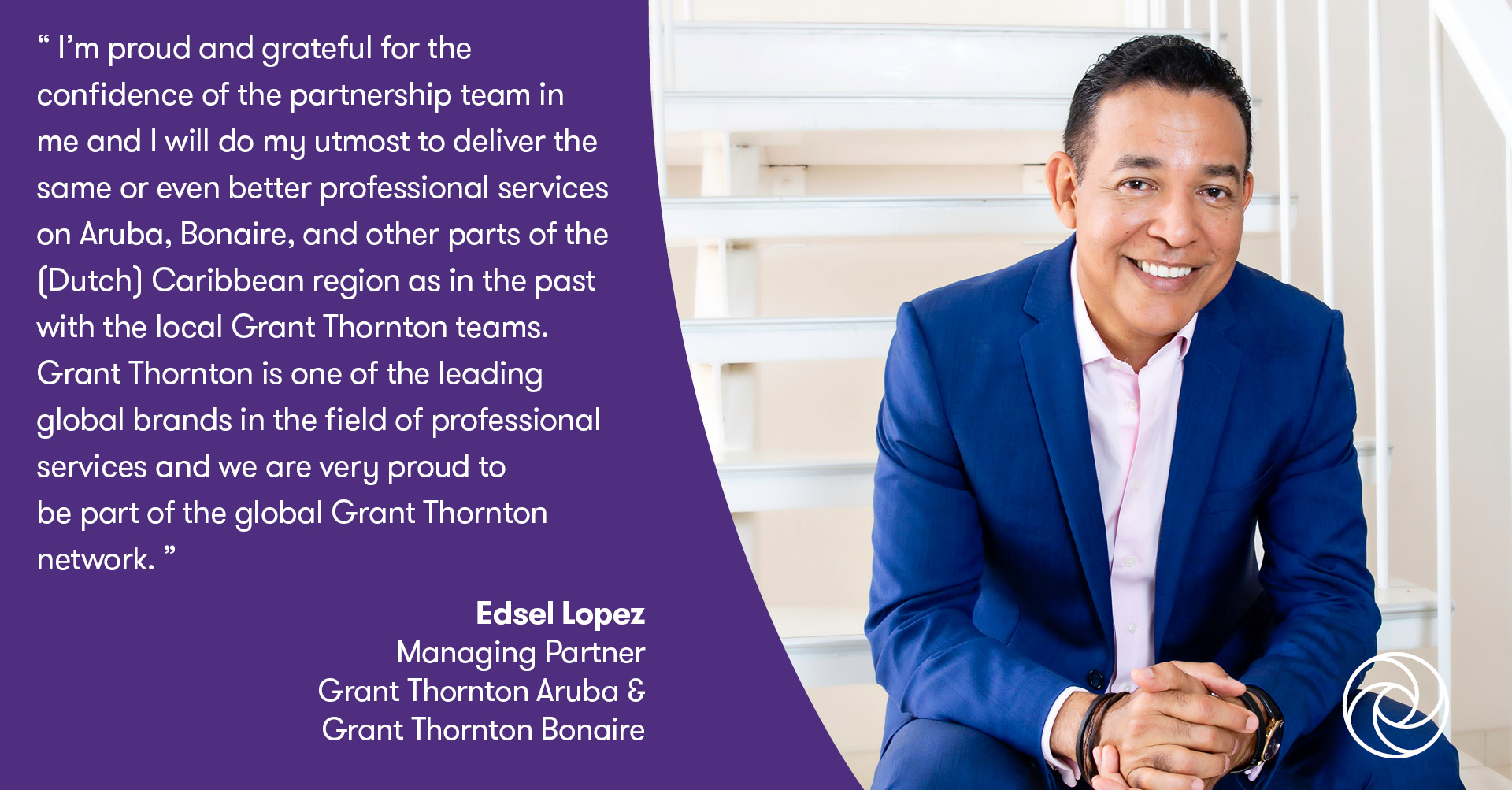 Our partnership is pleased to announce the appointment of Edsel Lopez as our new Managing Partner for the Aruba and Bonaire Grant Thornton office as from the 1st of July 2021. As of July 1st, 2020, Aruba, Curacao, Bonaire, and Sint Maarten GT offices became legally and financially separate offices whereby the GT Aruba office joined GT Bonaire to form one partnership.
As Managing Partner, Edsel Lopez will provide leadership to our initiatives to further develop the professional services market primarily in Aruba, Bonaire, and other parts of the (Dutch) Caribbean region, exchange knowledge within the Grant Thornton network and deliver further growth to the firm by securing support for new collaborative initiatives.
Edsel Lopez has a successful history within former PwC and now within Grant Thornton Aruba and Bonaire and has played a key part in developing new initiatives within the firms. Before joining Grant Thornton in 2018, Edsel Lopez worked at PwC as a partner and Territory Senior Partner, managing Grant Thornton to be the leading professional services organization in Aruba and Bonaire and develop further growth in other parts of the (Dutch) Caribbean region.
The partnership team of Aruba and Bonaire, "We are delighted to appoint Edsel Lopez to this position. His vast experience across the markets combined with his proven ability at identifying opportunities, developing partnerships, and leading initiatives, will help build on Grant Thornton Aruba and Grant Thornton Bonaire past success and deliver an exciting future for the Firm".